Name: Thipsamai Pad Thai
Cuisine: Thai
Address: 313 Mahachai Rd. Samranrat, Phra Nakhon Bangkok 10200.
Tel: (02) 221 6280
Open: Daily from 5pm to 3am.
Payment: Cash.
Web: http://www.thipsamai.com/
Remarks: This eatery has been colloquially known as Pad Thai Pradu Phee (ผัดไทยประตูผี).
Originally posted: February 2009
Last updated: -
Date visited: 29th and 30th January 2009


My attempted visit to Thipsamai on the 3rd day of CNY was discouraging and almost uneventful. When we were at the vicinity, only 2 eateries out of the block of shophouses were opened for business. One of the two was selling Pad Thai and we were misled by the long queue awaiting outside this eatery. As the shop was small, all seats were taken. We were left standing outside contemplating our next move. I quickly noticed that the Pad Thai served by this eatery were soggy and it didn't seem to be as good it should be. I reflected this to my Thai friend who, after looking at the shop sign, realized that he has mistaken the shop for Thipsamai which is just 2 doors away. After getting our bearing right this time, what greeted us at Thipsamai was an half-shut shop! We asked the young lady who manned the partially-opened shop and was informed that they were observing CNY celebration. The eating place would not be opened until the next day (4th day of CNY). Although during this time, the shop continued to sell their famous orange juice (nam som). Eventually we left the place with empty stomach but not without a big bottle of fresh OJ which was really good. ^_^"

Undeterred by my fruitless trip, I returned to Thipsamai on the following evening and was duly rewarded.

On the day of my successful visit, I had their famous Pad Thai Song-Kreung (ผัดไทย ทรงเครื่อง THB150). I picked the Woon Sen (glass noodle or 冬粉 in Chinese) version. In this special order, one gets a big portion of Pad Thai with fresh shrimps topped with sliced green mangoes, thin strips of crispy cuttlefish and a generous serving of crab meat. The delicacy was then added with bean-sprouts, Chinese chives, coriander, lime juice, sprinkle of fish-sauce and finished it with some grind groundnuts before tossing it like Chinese Yu Sheng (鱼生).

Craving for more, I patronized Thipsamai yet again on the subsequent day. This time, I had a traditional Pad Thai with fresh shrimps. Notably, the noodles are not soggy like its neighbor's. Strangely though, I find Thipsamai Pad Thai appeared reddish in color which is a stark contrast from what I used to have in other places (E.g. Nooddi The Noodle Bar & etc).

Overall, I am convinced that the ingredients are fresh and Pad Thai consistently well done. However, their cooking was overly sweet and, authentic or not, I did't quite take to the glistening red Pad Thai color. I have been eating roadside 30B Pad Thai for the last few years and have somehow accustomed to those taste, style and even color, or the lack of them.

Table for two:

Pad Thai Song-Kreung

THB150, traditional Pad Thai with shrimp and egg THB60, Orange Juice THB80/bottle, house tea THB2.

My verdict: Located in an obscure area of Bangkok and at a price easily 2 or more times the ordinary roadside fare, this eatery is good for its novelty. It is *the* place to introduce local fare to foreign friends but then, it stops right there.

Recommended dishes:

Pad Thai Song-Kreung



In a nutshell
Likes:
> Above average foods
> Fresh orange juice

Dislikes:
> Overly sweet cooking
> Color

Getting there ...
To be honest, I don't exactly know how to get to Thipsamai, despite having been there 3 times (out of which 2 were on my own). The eatery is situated at such an obscure place where there is no prominent landmarks, not near to any metro/skytrain stations. It is not even helpful, too, to know that they are along Mahachai Road or close to the Ghost Gate (ประตูผี / Prathu Phee).
What I do know is that they are within close proximity of
BMA
(Bangkok Metropolitan Administration or Bangkok City Hall). Hence, I usually begin my food quest at the Kok Wua intersection (near Khaosan Road). The 20 minutes walk along Dinso Road then cutting across BMA's assembly ground in to Soi Samranrat is depicted in the map. Thipsamai is right at the end where Soi Samranrat intercepts Mahachai Road.
While it may look crazy to travel a long way for just a plate of fried noodles, the trip itself is usually half the fun because both Dinso Road (Dinso means Pencil) and Soi Samranrat are interesting places which exude an old world charm.
Landmark & Map ...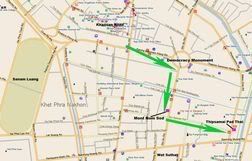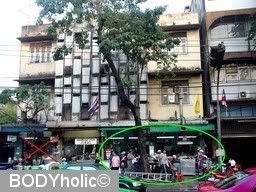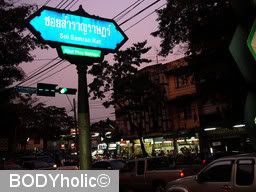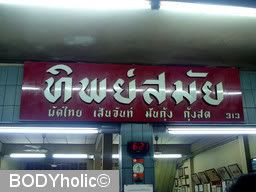 The eatery ...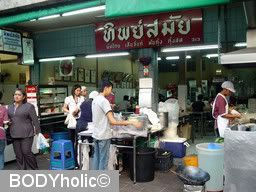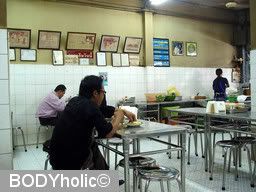 Our order ...