Originally posted: February 2009
Last updated: -
Date of visit: 27 January 2009

I visited the Yaowarat bazaar in the day and left the place for a dinner appointment before dusk. After the meal, my Thai friends suggested to visit Yaowarat. Here I am, re-visiting the same place the 2nd time on the same day.

Getting there ...
The sky was dark and ferry services have stopped by then. We took a train to Hualamphong station. After which, it was 10 - 15mins walk from the metro station to Thanon Yaowarat. On tour way, we paid homage to Wat Traimit but that's another story.

Landmark & Map ...
Unlike my day trip which I began at the intersection of Grand China Princess Hotel, our walk now begins at the Odeon Gate, near Wat Traimit. See a map here.
Yaowarat @ night ...
- Mouthwatering roadside foods awaited us :~~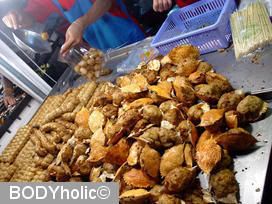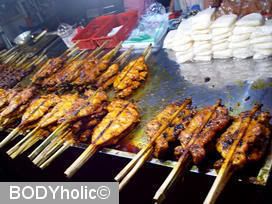 - My THB20 (SGD0.90) hoi thaawt (fried oyster omelet).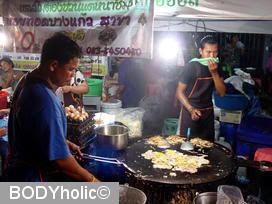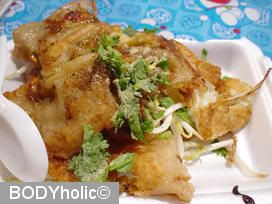 - These Chinese rice dumplings are so common back home but it never occurs to me that they can be so visually stimulating. Resist is futile and so, I succumbed to temptations. It's THB100 (SGD4.40) for 3 pieces of these bak chang (that's Thai & Teochiew for 'rice dumpling').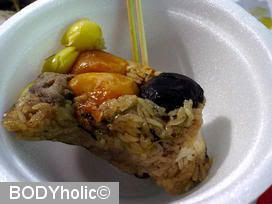 - This looks like traditional Hakka food, 算盘子 (abacus) which is rare even back in Singapore. Its name derived from the fact that those little steamed dough mixture resembles counting beans of Chinese abacus. But what caught my attention was the porcelain wares. They look nostalgic and kinda complement the old tradition. I hate to say this, but our hawkers back home probably can't be bothered about the presentations. Even if there are stalls selling this, the little doughs are likely to kept in some unsightly metal containers!!!



- Thai people have this flair of creativity. They can easily transform mundane things in to beauty by their magical touch. This stall sells little chocolates with lovely alphabets. And one selects several pieces forming well-wishing words. After which, the chocolate combo is nicely packed in to a small rectangular plastic tub by 2 young girls who tenders to the stall. What a great idea for a perfect Valentine's day! It's only THB8 (SGD0.35) per piece of chocolate (ช็อกโกแล็ต), I think it makes an awesome gift.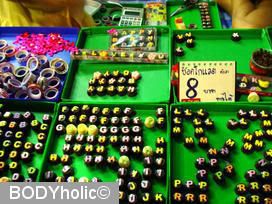 - Further down Thanon Yaowarat, here is an old and almost dilapidated Chinese eatery. Ain't sure why the queue waiting to be served was so long that it blocked the entire shop-front! From my observations, the eatery sells noodle with crispy moo krok (BBQ pork, 烧肉). Look at those slabs of moo krok and the guy basically does nothing else but concentrating on his non-stopped chopping. We decided to move on due to the over-whelmed queue.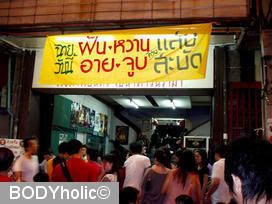 - The crowd became thinner after 1030pm. We had some Chinese desserts (not in the pictures) at a roadside stall before leaving for home.