Originally posted: February 2009
Last updated: -
Date of visit: 27 January 2009

Undeterred by the current economic climate, and blessed by cheap tickets offered by the 3 budget airliners, many Singaporeans continue to celebrate festive seasons, e.g.Lunar New Year, abroad.

For those who headed Bangkok last week for the CNY long weekends, the most commonly-asked question was, "Is Yaowarat open during CNY?". A short answer is, Yes and No.

No, the entire Yaowarat Road is cordoned off and closed for vehicular traffic.
No, most shophouses along the road, less the eateries, are closed.
Yes, Yaowarat is very much alive and kicking throughout the celebration.

Getting there ...
This year's CNY celebration @ Yaowarat lasted 2 days (26 & 27 Jan). I made my visit on the second day and since it was a day trip, the traffic condition was understandably maniac around the ghetto. Praised myself for quick thinking, I took the THB18 river ferry from Central Pier to Ratchawongse Pier. Arriving at my destination 15mins later, it was another 10mins stroll along the old Thanon Ratchwongse before the road intercepts Thanon Yaowarat.

Landmark & Map ...
Hotel Grand China Princess, at the Ratchawongse intersection, marks one end of the Yaowarat Road which was closed for the celebrations. A map is available here.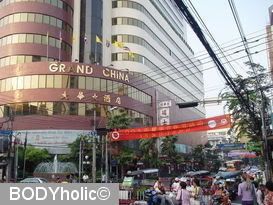 Lion Dance ...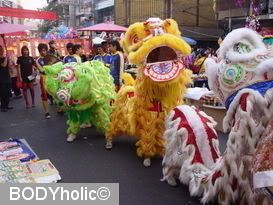 Makeshift roadside vendors...