Name: Mango Tango @ Siam Square
Cuisine: Dessert (Mango)
Address: Siam Square Soi 4, Rama 1, Bangkok 10330
Tel: (02) 658 4660
Open: Daily 11am to 10pm
Payment: Cash
Web: http://www.mymangotango.com/
Remarks:
Originally posted: May'2009
Last updated: March'2011

UPDATE 2 : They found themselves a new place at Siam Square Soi 5 now. (3/11)



UPDATE 1 : I was informed that Mango Tango at Siam Square was badly affected by the blaze after the peaceful protest at downtown Bangkok turned in to violence on the 19th May'2010. (5/10)



Original Post
Just a photo update of Mango Tango at Siam Square. Changes have been made to the walls and lighting since our last visit. Their lighting is, literally, a

low hanging fruit

now! We ain't sure if a mango a day really keeps (there's a missing 's' on the serviette) the doctor away, but we love the sense of

mango

.

Older pictures of Mango Tango can be found HERE.
The restaurant ...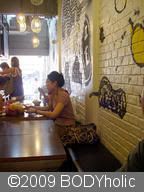 Our order ...
Getting there ...
Walking distance from Siam BTS station.
View
Bangkok Food Map by Thaioholic
in a larger map