Name: Scala Theatre @ Siam Square
Address: 184 Soi Siam Square 1 Rama 1 Road Pathumwan, 10330 Pathumwan, Bangkok
Tel: (02) 251 2861
Payment: Cash
Web: http://www.apexsiam-square.com/
Remarks: The Chinese name for Scala Theatre is "银都".
Originally posted: May 2009
Last updated: July 2009 - Added a picture of Scala Theatre scene from Love of Siam.

I am mesmerized by this 1967 building when I saw it the very first time in Siam Square. Perhaps it was the beehive ceiling and its old-fashioned box-office. The nostalgic makes me fall in love. I recalled fondly Mew first hinted his infatuation to Tong, his childhood beau, right here in the movie The Love of Siam (รักแห่งสยาม). *love* In my opinion, this place also makes a perfect setting for HK director Wong Kar Wai's (王家卫) next movie.

Scala is one of three cinemas, all located in Siam Square, owned by the Apex Group. The other two are

Lido

and

Siam

which are a few sois away from Scala. However, the latter two do not have building as iconic and visually captivating as the Scala Theatre.

Siam Square is fast evolving. With Siam Center Point gave way to the Digital Gateway which is still undergoing construction, it is a matter of time that the entire Siam Square will be transformed in to hyper malls with state-of-the-art facilities. In the midst of this modernization, I do hope a little bit of the old charm, read the Scala Theatre, is preserved.

Meanwhile, I will continue to snap as many pictures as I possibly could before this building eventually becomes a part of the history.

PS: Having said that, Scala Theatre, like many other beautiful buildings in Thailand, prohibits photo-taking within the building. They are not camera-friendly at all. This explains some of my hazy shots.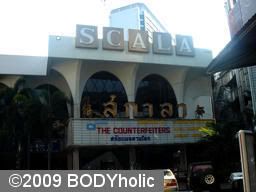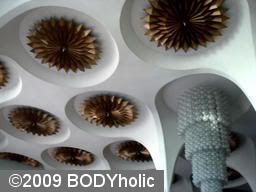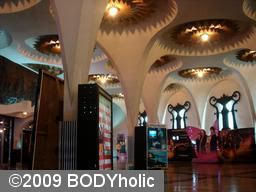 Getting there ...
Scala Theatre is walking distance from the Siam BTS station.
View
Scala Theatre @ Siam Square
in a larger map
Further reading:
1.
The Scala's Old Cinema Glamour
2.
Wiki: List of Cinemas in Bangkok