Name: Ko Kred (Kred Island)
Remarks: -
Originally posted: April 2009
Last updated: -
Date visited: May 2008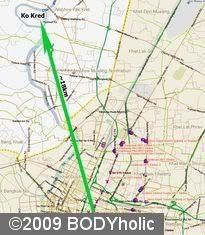 Ko Kret is an inland island about 18km to the North of Bangkok. Because of its close proximity to the Capital, it is a popular destination for weekend getaway. On weekdays, this island is, otherwise, tame.

Many of the inhabitants on the island are of Mon origin. The main attractions on the island include Wat Poramai Yigawat and its iconic leaning Chedi, OTOP villages which serve to marvel the pottery skill and products. More details of this man-made island can be found on the Wiki links at the bottom of this page.

Getting there ...
1. By car - For this road trip, we were invited to join a local Thai friend and his partner for this weekend escapade. It took us approximately 45 minutes to arrive at Wat Sanam Nua where the river-crossing pier is adjacent to it.

2. By ferry - Alternatively, on weekends, there are package tours, originate from Central Pier, to Ko Kred conducted by ChaoPhraya Express Boat Company. Although weekday ferry services to Pak Kred are made available recently, the upstream trip is only available in the evening which makes an eventful day trip impossible. These trips are scheduled for the benefits of the island community who works in the city center. In any case, as mentioned earlier, I was told that the island is pretty much inactive on weekdays. Blogger ThaiTransit has more information on this newly added ferry service.

3. By cab - I reckon that it will probably cost the same amount to Ko Kred as to Suvarnabhumi International Airport.

At the near bank ...
1. The first picture is the Bell Tower of Wat Sanam Nua adjacent to the mainland jetty.
2. The congested pier.
3. The leaning Chedi of Wat Poramai Yigawat is clearly visible across the water on the RHS.
4. The last picture depicts the view of our landing pier across the river.



Over at the far bank ...
5. Disembarkation.
6. An overhead wooden banner welcomes us. (No, I can't read what it says)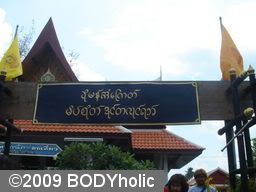 Our trip begins...
There are clear signage that led us to the Pottery Village. But even before that, many interesting stalls selling goodies, knick-knacks & etc dotted the way.



Earthenware & etc ...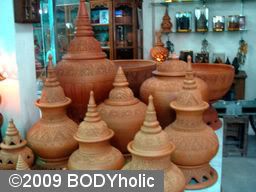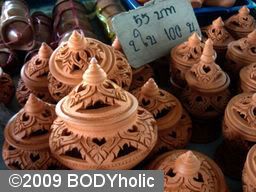 Pottery workshop and an ancient Kiln ...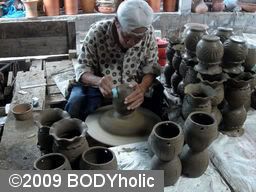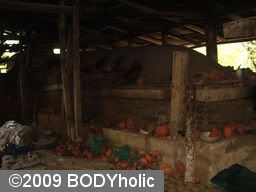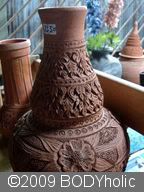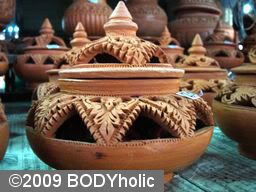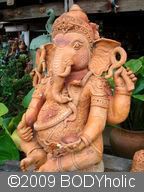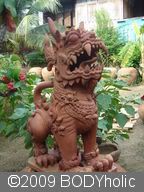 Thai sweet treats on an idyllic afternoon ...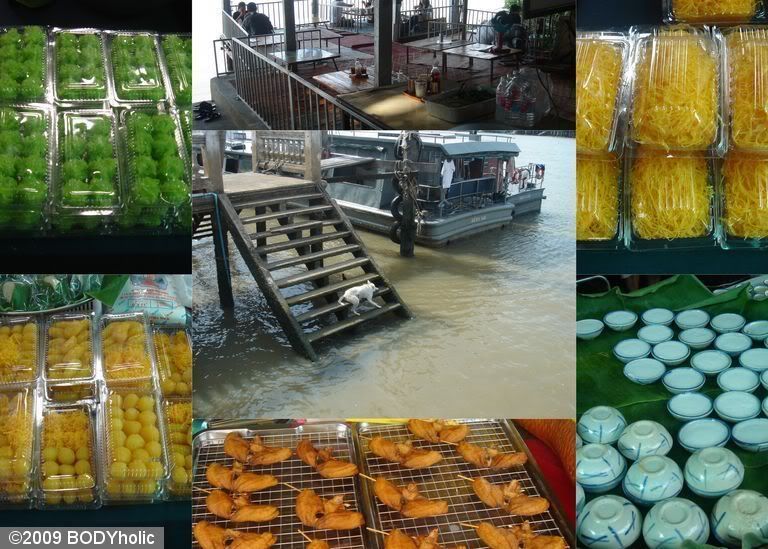 A few shots of the temple ...
1. The iconic all-white Chedi and the lovely lamppost next to it.
2. This building gave me an uneasy feeling. Almost creepy. Perhaps it was because of the exceptionally tall and bleak chimney, I couldn't stop thinking that it is a crematorium. I hope I'm wrong.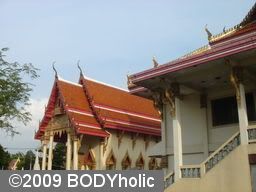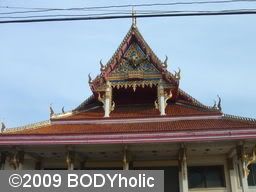 Interesting pictures ...
1. No. It was't those boobs that made this picture interesting. These ceramic cups were going at around THB100 a piece (iirc) on the island. When we were back in Bangkok on the same day and because of the tormenting heat, our friend suggested to hang around in Central World Plaza. The air-conditioning was strong and it didn't cost anything. While we were window-shopping in ZEN (under Central Group), I found these exact ceramic cups but they were each more than 3 times dearer! *OMG*
2. It suddenly dawned to me that those ceramic cups may be modeled after this fine lady who sold iced drinks near the temple ground. We were almost die from dehydration, when her drinks came as God-sent. BTW, the content in the barrel on her right was grass-jelly (凉粉 or 仙草 in Singapore). I believe the center bucket was brown sugar. Ain't sure what was in the left barrel.
3. At the point of writing, IKEA is still non-existent in Thailand but somehow, its kitchenware managed to find the way on to this small secluded island.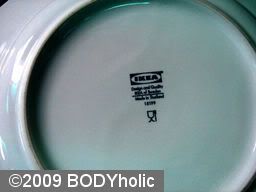 We also had meals and snacks at two lovely eateries, Ko Kred Kanom Jeen and Cowboy Bar, on the island which I will blog them next time.

Reference:
Wiki: Ko Kred
Wikitravel: Ko Kred
Ko Kred - Bangkok's Hidden Gem