Name: Ging Kalpapruek
Cuisine: Thai
Address: Basement, Siam Paragon, Bangkok.
Tel: -
Open: (to be updated)
Payment: Cash and major credit cards
Web: -
Remarks: -
Originally posted: March 2009
Last updated: -
Date visited: December 2008

Our first dining at Ging Kalpapruek was dated back in 2006. I recalled that we unknowingly ordered a potage with coagulated pork blood which both of us are absolutely not in to it. Otherwise, I haven't had much impressions after that.

I was at the food court of Siam Paragon on the New Year eve. The place was over-crowded and it was difficult to reserve/find a seat since I was alone. Eventually, I settled for a dine-in at Ging Kalpapruek Thai Restaurant which was also on the same floor. It could be a little more expensive but I know I don't have to queue for food and compete for a table.

I picked a small table at the outer brim of the restaurant. A menu was presented shortly but I had to turn away the server because I needed a little more time to decide my order. The menu was, unfortunately, very limited. There were very few à la carte and several dish-over-rice stuffs like fried-chicken over rice or fried fish over rice & etc.

I flagged a server several minutes later to take my order which includes a garden salad, a minced pork with bean curd and

woon sen

soup. I had to order in Thai because the server apparently did not have a clue what English is. I also requested him to recommend me a meat dish. He then went in to his "auto-lecture mode", blabbering non-stop which I could not follow fast enough on what he had said. But I did hear

Gai Thaawt

(ไก่ทอด / deep-fried chicken) and readily agreed to it.

Table for two: It's THB495 (~SGD21) for my 3-course meal which includes a green, soup and deep-fried chicken over rice.

My verdict: The green was fresh. The ingredient was also generous in the soup. The deep-fried chicken was a letdown, as it was too dry and bony. It doesn't help, too, that I don't like chicken drumstick.

Recommended: Minced pork with bean curd and

woon sen

soup.

In a nutshell
Likes:
> Prompt services

Dislikes:
> English is non-existence
> Limited menu

Ging Kalpapruek is also found at 5th Floor of The Emporium Shopping Complex next to Phrom Phong Skytrain station (use Exit 2).

The restaurant ...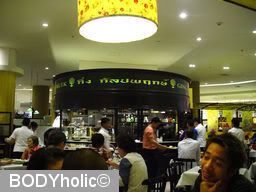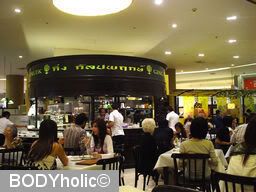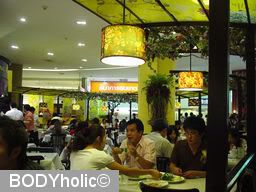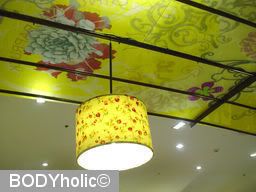 Our order ...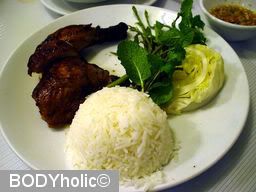 Older pictures taken in 2006 ...