Cuisine: Thai
Address: Soi Convent, Silom, Bangkok
Tel:
Payment: Cash and major credit cards
Web: Nil
Originally posted: July'2008


Having dined here a few times, our experience with this restaurant has been positively consistent as such there is not much of difficulty writing about them.

The restaurant located at Soi Convent, another food haven in Bangkok. Coming from Thanon Silom, the restaurant is only a short walk from Saladang BTS station in to the left-hand-side of the Soi.

To begin with, the 2-storey restaurant is small and bare. There is really nothing to talk about on the interior decor and its ambiance. The ground floor consists of a dining area, service counter and a kitchen behind it. More dining tables are available on the upper floor and it is also where the washroom is. Since the restaurant is sitting on a small footprint, whatever that is cooking in the kitchen, the dining hall at lower floor smells it. ^_^" This is probably the only gripe we have.

Considering the location of the restaurant which is in Bangkok's financial district, we find the food to be reasonably priced. Honestly, I am contemplated to say 'dirt cheap', should I compare the price that I've to fork out for the same dishes back home in Singapore. Ouch! As a gauge, a dinner for two would probably cost around THB500-600 inclusive of non-alcoholic drink. In our case and because of the extensive varieties, we tend to over-order which explained our inflated bill. :)~

Table for two: THB776 inclusive of two non-alcoholic drinks.

P/S: 'Bua' is Lotus in Thai language.

In a nutshell
Likes:
> Good selection of Thai foods
> Economically priced
> Accessible location

Dislikes:
> Dining hall smells
Mixed Seafood Salad (120B) - A variation from the typical Thai Yum Woon Sen. The veg is fresh. Recommended.
Yum Pak Boong Krob (120B) - This tempura-like crispy morning glory (kang kung) is one of their signature dishes. Thumbs-up.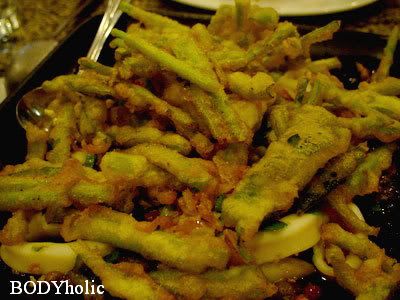 Fried Shrimp Patties (80B) - Passable.
Tom Kha Gai (120B) - Generous ingredients, clean thick white gravy and most importantly, appropriate sized skinless chicken fillet. A very typical standard in Bangkok. Strangely, the same level of satisfaction can hardly find in Singapore.
Goong Ob Woon Sen - Lackluster of the night. The size of the prawns were a tad too small and overall taste was flat. Not recommended.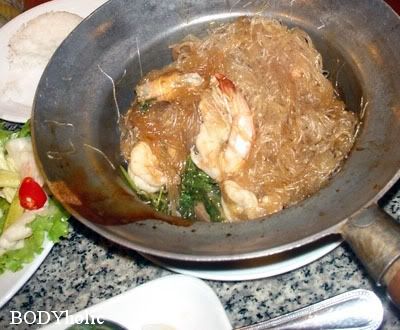 We were ushered to a table very close to the counter/kitchen. We should be grateful that they didn't charge us for sniffing.
Simple and minimalist. While it didn't score much points in the ID department, it stood up with good and cheap foods.