Cuisine: Thai
Address: Thonglor Soi 13, Bangkok
Tel: (02) 185 2874
Payment: Cash and major credit cards
Web: Nil
Originally posted: June'2008


Gotten to know this restaurant from a review in Bangkok Post not long ago. Apart from the good referral, I was also very curious with the much touted 'Yum Tawai' mentioned in this article, although I still have very little clue what it is.

We made a reservation at the restaurant. During the telephone converastion, we were asked to choose between alfresco or indoor. We opted the latter since the weather was rather hot that day. The restaurant, located at the intersection of Soi Thonglor (Suk55) and Thonglor Soi 13, was not difficult to find. Despite arriving after 8pm on a Saturday night, the place was still packed to the brim. If not for the reservation we could have to wait to be seated!

As we entered, our first impression to the indoor dining area was compact and the greasy air was plagued by poor air circulation. It smelt exactly like a kitchen. We had this feeling that we would be leaving the place smelling like one too! So much for the first impression ... which we hope it didn't last as long as the smell does.

We were seated and promptly presented with menu where dishes were orderly categorized in to starters, main course & etc. Food entries were also printed in both Thai and English with prices clearly tagged. With faith from the newspaper's review, we ordered a Yum Tawai as starter. For our main course, we had a serving of Hor Mok, a crispy fried Pla Samlee (cotton fish), fired Chinese Kai Lan with mushroom, Tom Yum Goong and pineapple rice.

Amazingly, the veg and Tom Yum Goong were promptly served withing minutes. Our starter, Yum Tawai, was still nowhere in sight. OK we had a sticky situation where the main came before the starter. For a while, we ain't sure should we go ahead with the 2 dishes or should we keep on waiting for our starter who had became a 'follower'. While we waited patiently and were still maintaining our best composure, the starter eventually turned up along with the rest of the dishes. Yes, ALL but the pineapple rice. ^_^"

As the clock was ticking away, we still had a table full of dishes but no rice. Two servers were dispatched to check for the whereabouts of our pineapple rice. They too, along with the rice, never came back to us again. We had to stop a 3rd waitress, instructed her to cancel the pineapple rice, replaced it with ordinary steamed rice. By then, our pot of Tom Yum Goong had already lost much of its steam. Well, so much for the terrible services.

Table for two: THB871 (SGD36.27) inclusive of two non-alcoholic drinks.

In a nutshell
Likes:
> Good selection of Thai foods
> Choice of alfresco or indoor dining
> Cheap

Dislikes:
> Dining hall smells
> Service that left much to desire
> Excessive MSG in Tom Yum Goong

Yum Tawai - Despite of the look, this is my favorite of the night. It resembles our 'kang kong cuttlefish topped with satay source'.
Tom Yum Goong - Excessive MSG! Avoid at all costs.
Hor Mok Kanom Krok - One of the better dishes which we both enjoyed. The souffle was tender and not too spicy.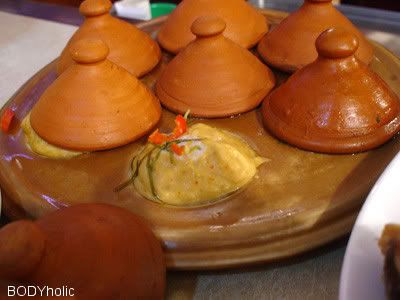 Crispy Pla Samlee - The green mango source was good but the cotton fish literary became cotton soft while we were waiting for our rice.
Stir fried kai Lan with Chinese Mushrooms - Passable.