This is a continuation from my lengthy blog which I, previously, wrote about our pilgrimage to the 9 sacred temples on the New Year day. In this blog post, I shall explain the things that devotees usually do when making merits in temples.

Typically, on important days when influx of crowd is expected and to facilitate monetary collections, donation booths are setup near the entrance of temples.

At the booth, devotees place their contributions in to a donation box. A token amount of 20B is common, although it is always welcomed to contribute more. In return, the temple helpers at the booth pass you a few items for offering to Lord Buddha.


3 incense sticks, a short yellow candle and garland/lotus bud are the generic items. To begin the ritual, incense sticks and candle are lighted. Firstly, the candle is offered. Then we pray for good luck, health, fortune, career & etc, with whatever remaining items we have. And after the prayer, these items are offered to Lord Buddha.
Interestingly, some temples have additional praying materials. Example, at Wat Arun, we were given small pieces gold foils and golden paper leaflets. The gold foils are used to gild on the holy Buddha image. Whereas the little sticks of gold leaves, a bank note is normally inserted in between the wooden stick prior to offering (see picture).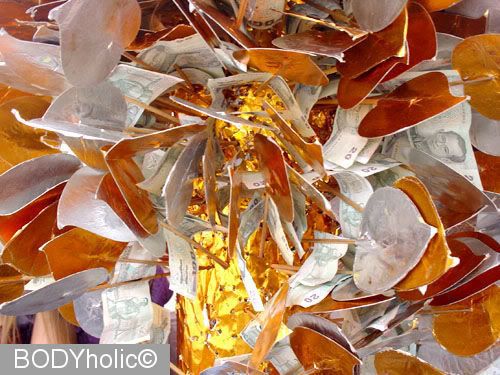 Location: Wat Arun (Jan 2009)
Over at Wat Rakhang, devotees sprinkle solution on to the holy images. The liquid, appears to be yellowish and milky, is contained in small dark brownish glass bottles. I have the faintest idea the purpose of this ritual but from the net, this is to pay homage to
Somdej Phra Puttajan
. More info from
here
.
Location: Wat Rakhang (Apr 2007)
At Wat Saket, devotee gilds the chedi with little pieces of gold foil. It is not an easy task. Sometimes the gilds just refused to stick!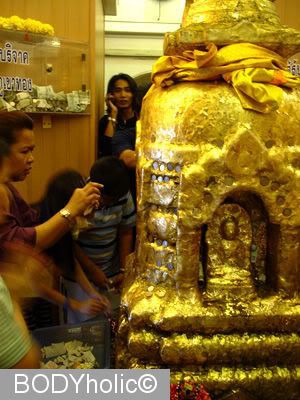 Location: Wat Saket (Jan 2009)
Finally, to sum up those little experiences that I had for the day,
Dress appropriately
Prepare sufficient THB20 bank notes (10 - 15 pieces) in advance
Beware of pickpockets