Cuisine: International
Address: 39 Sukhumvit Soi 16, Bangkok
Tel: (02) 663 0495
Open: Tue - Fri, 10am - 1030pm. Close on Mondays.
Payment: VI, MC & cash
Web: Nil
Remarks: Check out the life-size coffee roaster at the cafeteria.
Originally posted: October'2008
Last updated: November'2008

Our first visit to Kuppa was some 3 years ago. We arrived at the industrial-like restaurant on a hot sunny afternoon. Perhaps it was on a weekday and well past the typical lunching hours. We almost had the entire place to ourselves.

The entrance leads to the front lobby which also serves to segregate the classy white-table cloth dining area (on the left) from the laid back cafe (to the right). We picked a welcoming table by the full height window. Menu was promptly presented to us and the server was not pushy while we were carefully browsing the menu. The ordering part was done entirely in Thai by my partner which, I believed, made her more comfortable than if she would have from me.

For obvious reasons, both of us hardly dine in restaurants that serve Western food. He is a Buddhist which restricts him (and therefore, me) from taking beef. I prefer Thai food to anything else (with the exception of coffee and cakes). Hence, in all occasions, we always ended up having some fish as our main course. The problems with having fish as a main course in a Western dining setting are, the serving portion is mostly pathetically small and yet obscenely expensive. Then I also find slicing steamed or baked fish fillet such a dreadful chore, as they disintegrated in to pieces so easily!

I was sure that our main course were pretty well done, but that was only this much I could write about them. With a slab of mashed potato on each of our main course, the half-hearted presentation was less than zealous. Saving grace, the veg salad served in an over-sized wooden bowl was very impressive. The greens were so crispy as if they were fresh from the veg farm. *thumbs-up*

After the meal, we made ourselves comfy on the homely 3 seaters not far from the coffee roaster machine. We completed our brunching experience with creamy slices of cheesecakes topped with blueberry spread.

Table for two: No details.

Recommended dishes: fresh salad, fragrant coffee and luscious cheesecakes

In a nutshell
Likes:
> Good coffee and cheesecakes
> Conducive ambiance

Dislikes:
> Poor garnishing & food presentation
> Where's da website!?
The restaurant ...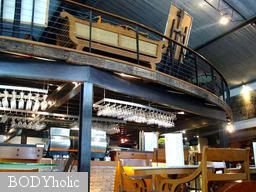 Our order ...